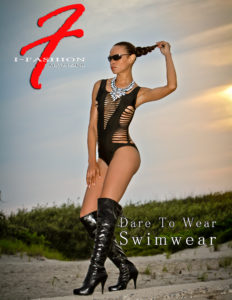 We are in the full swing of summer and i-Fashion has come across some serious swimwear models and designers. We even have a model that has her own swimwear line.
Parisa Khounkhouamdy of Paris, France has one of the sexiest lines I have ever seen. Parisa was determined to have her line shot in New York so she contacted us at i-Fashion and she made the trip so we could have the exclusive first look at her collection. We did the shoot in lower Brooklyn overlooking Manhattan and I must say, the images are absolutely stunning. I have to say thank you to New York finest for conducting crowd control. Yes.. It was like that.
One of our star models, Leann Rivera, told us about designer Erica Jackson's swimwear line. What she forgot to mention was she shot the swimwear line with two different photographers, Horace Robinson and Richard Simpson. Pros at what they do, the mixture of one awesome designer, one beautiful model and two talented photographers is a recipe for success.
Artist /Designer Chris Baretto, took us out to the Hamptons to shoot her collection. First, we have to thank Chris and her husband for their hospitality and making us feel at home. The shoot around the city, beach and boating dock was more than what we expected. Her colorful, silky clothing line is a breath of fresh air which once put on can make any woman feel like the free spirit that Chris is.
Beauty and fashion photographer Aldo Antonio, got seven beautiful models together and produced some amazing swimwear shots. Since Aldo's July 2015 submission which made our cover, he has been a steady supporter of i-Fashion and several other fashion magazines. Thank you Aldo, for your continued support.
We also have some swim favorites from Lainy Gold, Plus size designer Elomi Swim, TOGS and more.
As always, from myself and the i-Fashion team, thank you for your support
Enjoy.
Lloyd Crawford
Editor-n-Chief