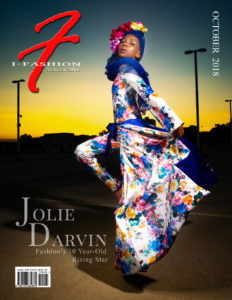 Our Kids Fashion issue is one of my favorites simply because of the pure heart and soul that these kids bring to their budding careers in fashion.
It is so refreshing to see young people so focused on a career. A career in fashion prepares them for the future by learning how to interact with different people, learning about different cultures and at the same time, having fun. I feel it's our responsibility as grown-ups to guide and mentor the young minds of today, not necessarily force them into what we feel is best but let them express themselves and nurture their growth.
This issue we have a very special young lady, Jolie Darvin, who is a prime example of a young mind doing what she loves, regardless of what struggles are thrown her way. This 10-year old supermodel is unapologetically grabbing the fashion industry by the horns and fighting for her life while doing it. Kind of puts a lot of things in perspective. Read her story and I'm sure you will be inspired.
Established fashion designer, Eunika Simmons, assisted her two sons, Carlos and Nigel to help create a clothing line called Young Gods. The line is an eccentric mixture of colors and patterns for today's hip youngster. Each unique piece represents its' own personality which is further emphasized by the selection of endearing models that displayed their talents in front the camera.
Our very own Chanise Smith gave us a glimpse into her program, Listen To Your Heart, and what her program has done for the young ladies that joined her. The motivation that Chanise and her team gave these young ladies was phenomenal. The program created a sisterhood bond that will benefit them for years to come, hopefully a lifetime.
We are so pleased to showcase models from ages 1-16 and hopefully inspire them to pursue their dreams of modeling, designing, acting or really…. whatever they wish.
Thanks to everyone that submitted and as always, thanks for your continued support.