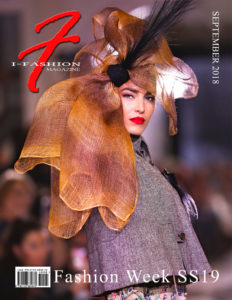 Click Here to Order this Issue
Another fashion week has come and gone and what I find amazing is how many new and talented designers have emerged since last season.
I had the opportunity to venture out to several independent shows and I was happily surprised at the statements these designers are making through their collections. Now, in the height of the #Me Too Movement and women empowerment finally picking up more momentum, it's great that this generation of designers is expressing themselves through their fashion and their communications with other cultures. We are all striving to reach a common goal of unity.
As fashion week kicked off, I spent the opening days at the Toronto International Film Festival. Leaving Toronto, I felt inspired and exhilarated. I watched 4 documentaries all of which were grounded in purpose, intentionality and driven by what it takes to live your dream. All of the docs captured the challenges and struggles associated with living your dream. I am taking this time now to re-engage you as the Editor in Chief of i-Fashion Magazine, a fashion and beauty photographer for the past 30 years, and more recently, the designer of L' Antonio Resort Wear. My journey has not been without struggle and also grounded in my passions and visions.
The first step, for me, was identifying my passion, taking a deep and intentional look at what drives me and next figuring out how to surround myself with people who both support and challenge me to level up. This weekend also reminded me that taking a minute to go outside of my comfort zone is necessary, even when it doesn't feel comfortable.
Our September issue covers fashion week shows primarily in New York. As my photographers up their game you the reader benefit. In this issue, you will see the creative force of Karl M. Lee, Dennis Madigan, who work together like clockwork and construct an extra step when covering shows.
Maarkah Fashion Week was one of my favorites. CEO and Producer Rabab Abdalla, compiled some of the greatest designers from all over the world. The two-day event took fashion to a whole new level. The mixture of different ethnicities coupled with a serious woman empowerment theme was captivating from the beginning. This is a show you don't want to miss next season.
At this time I'd like to give much respect to my good friend William Michael Reid who celebrated his 50th birthday and orchestrated a top-notch show. NYC Live gets better and better every year. Congratulations!
As always, thanks for your continued support.