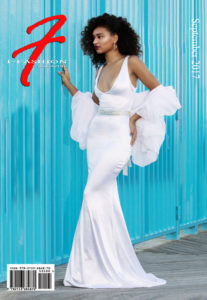 Ok.. So Fashion Week is officially over for New York and I know some of my die hard fashion friends are going through some serious withdrawal right about now.
I loved this season. It seemed for the past two years, things were going downhill within the fashion community partially because I was so use to hanging out with the same fashion crowd and not spreading my wings to see what other fashion outlets there were to explore. Trust me, my fashion circle is no joke, but you always want to gain other experiences and see how other fashion communities are slaying the runway.
The i-Fashion team was out in full force and we some of the most entertaining, creative and totally impressive shows this season. Aside from the normal IMG represented shows, the independent productions were stepping up their game.
One particular show was NYC LIVE, produced by William Michael Reid. This production out shined last season's show completely. The array of various designers from all over the world mixed with an array of new models and the fashion elite, made the show that's going to be hard to follow.
Another wonderful show was the Henry Picado show which took place at the Mercedes Club. The setting for this show mocked last year's production with the outside venue via pool side and a lineup of designers that touched anywhere form lingerie, active sportswear to evening gowns. Henrys segment was highlighted by a special team of Mongolian models who came to NY specifically for fashion week. i-Fashion Magazine was able to broker an exclusive photoshoot with some of the girls and Henry's Designs after the show. Simply AMAZING!!!!
This issue contained a lot of content and unfortunately, we weren't able to fit everything but I think you will be happy.
As always, thanks for your continued support
Lloyd Crawford
Editor-n-Chief
www.i-fashionmag.com