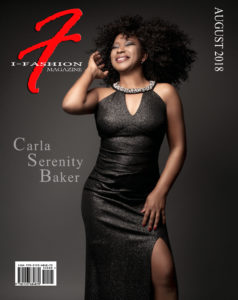 Can we all agree that summer is flying by? I mean just the other day we were complaining about how cold it was, then we were hit with multiple heat waves and now we are preparing for Fashion Week SS19.
We compiled a great amount of talent for this issue. August has always been a month for information gathering for i-Fashion. It gives us some highlights of what to look for next year as we also reflect on what we have already accomplished. We traveled a lot this year with still more to go. The reason is, we are working to move out of our comfort zone and seek suggestions on how others are doing things in the fashion industry. We find it very important to connect with others because not only do these connections give us other ways of looking at things, we are also building the clientele we want around us. Since we took this route, our brand has skyrocketed and the wealth of information, contacts and support is absolutely unimaginable.
This issue is a prelude to what we are planning for 2019. We will be highlighting not only women who are amazing and talented, but those who have long left their twenties gracefully and became accomplished role models to all of us in the fashion industry. This is important to our constant theme of women empowerment because society has a way of making us believe that after our twenties, marriage and children, women, especially women of color, cannot continue to achieve their childhood or adult goals.
We want to thank Carla Serenity Baker for her constant support of i-Fashion Magazine and helping us reach a much larger audience. Designer Amanda Kamhawy, your designs are elegant, classy and we can't wait for a full editorial with you. Thanks to Valerie Miller of Glamorous Things which created a fashion platform for plus size. To my UK Stylist, Cian Smith, you are more than amazing at your craft. Karl, Dennis and Michael, as photographers you put i-Fashion at a whole different level.
Congratulations to all whose submissions were published and thank you everyone for your continued support.